Assembled to our TLR Race Team's Factory Specifications, the Team Losi Racing® 22 5.0 DC Race Roller: 1/10 2wd Buggy will get any racer off on the right foot and competing for podiums quickly! Factory built and pre-assembled as a Race Roller chassis, new drivers can start racing in less time. Just add your preferred electronics, tires, and paint to make this Race Roller as unique as you. The 22 5.0 DC Race Roller has a combination of features second-to-none including low maintenance gear differential, G3 12mm big bore shocks, revamped steering geometry, and so much more. No matter if the terrain is dirt or clay, the 22 5.0 DC Race Roller is at home on the racetrack and poised for the podium.
Features
Pre-Assembled Race Roller
Low Maintenance Gear Differential
Adjustable Rear Hubs and Inner Rear Pivots
G3 12mm Big Bore Shocks
Revamped Steering Geometry
Super Heavy Duty Slipper (SHDS)
2.0 Milled Aluminum Chassis
22 5.0 Body
TLR Front Wing Included
Diff Height Adjustment
Front Roll Center Adjustment
3-position Front Camber Block
New Battery Hold Down
Optimized Composites
TLR 6.5" Rear Wing
Built-In Motor Fan Mount
Laydown Configuration
All Metric Hardware
In The Box
(1) 1/10 22 5.0 DC Race Roller
(1) Product Manual
Needed to Complete
(1) Transmitter and Receiver
(1) Steering Servo
(1) 2S LiPo or LiHV Battery
(1) Compatible Battery Charger
(1) 48P Pinion Gear
(1) Motor
(1) ESC
(1) Tire Glue
(4) Tires
Polycarbonate Paint
Tools (Please reference the manual for more details)
Video Overview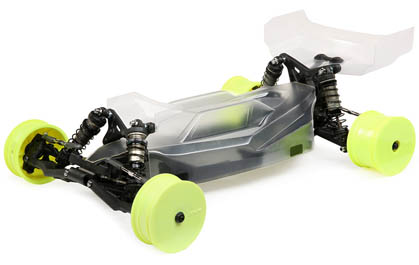 Race Roller
Factory Built as a Race Roller Chassis, just install the electronics, mount the preferred tires, paint the body and the 22 5.0 DC Race Roller will be ready to hit the track and collect podiums!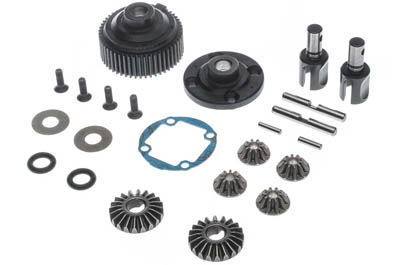 Low Maintenance Gear Differential
Optimized for reduced maintenance, the 22 5.0 DC Race Roller includes TLR's metal version gear differential which is ultimately reliable and uses silicone fluid to adjust performance.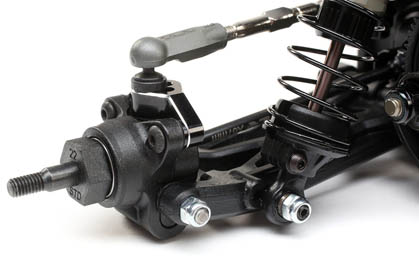 VHA Rear Hubs and Adjustable Inner Rear Pivots
The 22 5.0 DC Race Roller includes Inner Rear Pivots with roll center, track width, anti-squat and toe adjustment paired with the Variable Height Axle (VHA) rear hubs which also give more roll center and axle height adjustment. This is the most adjustable rear suspension TLR has ever produced.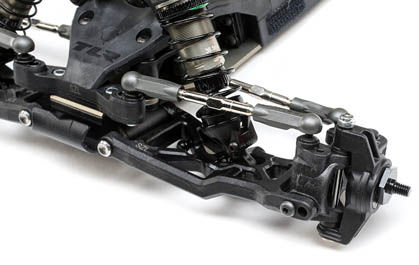 Revamped Steering Geometry
The 22 5.0 is the best driving 2wd Team Losi Racing has ever created, and the biggest improvement comes from the steering geometry. Increasing the length of the steering bell cranks and spindle arms, along with changes to the Ackermann angle give the 22 5.0 DC Race Roller a significantly smoother steering feel, especially off-center and high speed, while increasing low-speed steering for tighter tracks and 180's.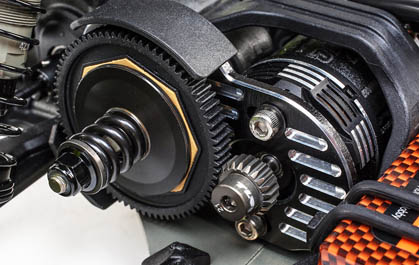 Super Heavy Duty Slipper (SHDS)
The slipper is optimized with all new slipper plates, slipper pads, spring, spur gears, and an all new top shaft. The new top shaft uses a sturdy M4 lock nut, the new slipper pads allow for spur gears sized 69T to 81T, reduced slipper pad area provides a more linear slip through the throttle application, and thicker slipper plate keep consistent pressure across the surface of the slipper pads.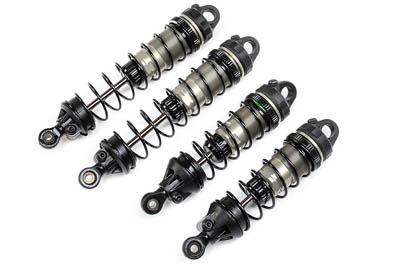 G3 12mm Big Bore Shocks
The G3 shocks give the 22 5.0 the plush handling and consistent, leak-free bleed as the Gen II shocks, but with some long-anticipated ease of use improvements. No more e-clips as the pistons are now secured by screws, new shock caps and shock bodies increase the spring collar height by 3mm to accommodate lower ride heights, new eyelets and spring cups provide -3mm, 0mm and +4mm spring cup off-sets and paired with all new eyelets will never pop off with the screw in feature. The new eyelets are also made in two lengths that allow racers to switch between different heights, and work with revised shock balls that finally slide into the front arms smoothly and easily.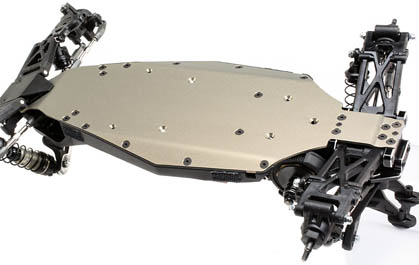 Milled 2.0mm Aluminum Chassis
Maximizing the flex characteristics for all surfaces, the 2.0mm thick chassis give the right about of flex and rigidity for smooth corning, optimized balance, and bounce-free landings.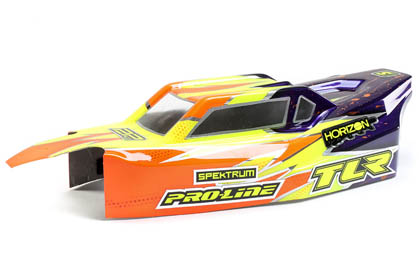 22 5.0 Body
Maintaining the excellent balance, grip, and stability of the 22 4.0 body, with a similar styling, the 22 5.0 body is pulled from 0.8mm PC plate for a lightweight body that still has fantastic durability. As with all TLR bodies, the 5.0 body is clear and precut in the kit.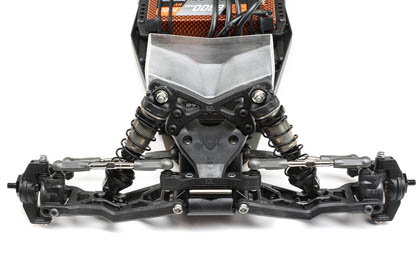 TLR High Front Wing Included
With the higher speed, higher grip tracks of today, a front wing will increase steering in high speed turns and on power,while making the steering on entry smoother - the best of all worlds.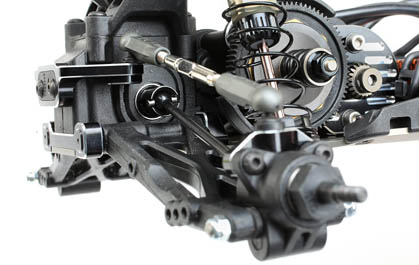 Diff Height Adjustment
The 22 4.0 included diff height adjustments including 0 and +3.5mm settings. The 22 5.0 DC Race Roller includes 0mm, +1mm, +1.75mm, +2.5mm, and +3.5mm diff heights to optimize bone plunge for different axle heights, ride heights, and grip levels.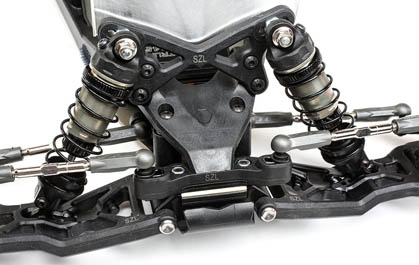 Front Roll Center Adjustment
The 22 5.0 DC Race Roller includes the standard Low Roll Center (LRC) front pivot with kick shim in the kit and offers the optional High Roll Center (HRC) front pivot separately. A new 1mm thick kick shim is also included. Now, racers can run the Super Low Roll, Low Roll, Medium Roll, or High Roll Centers, with a 3mm adjustment window.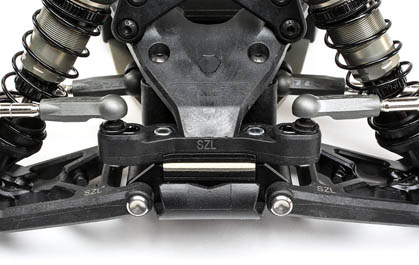 Updated Front Camber Block
The front camber block adds a third camber link option between the tradition inside and outside holes. The new position provides the best balance of steering and stability in many conditions, and allows the 22 5.0 to be more dialed- in on more different grip levels.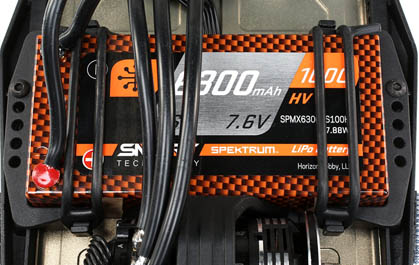 Updated Battery Hold Down
The 22 5.0 DC Race Roller boasts the most versatile and easiest to use battery hold down system. The battery cradles key into the mud guards for five fixed, and easy to duplicate, battery positions. The battery is then held down with elastomer straps on each end that can stretch to fit any height shorty battery and any weight plates under it. Best of all, the battery is out in no time flat and back in just as easily.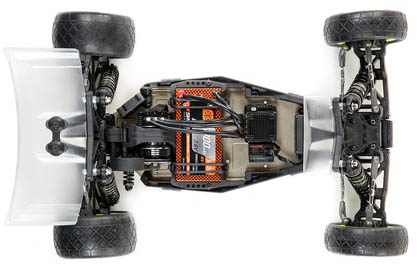 Optimized Composites
The balance and consistency of the 22 5.0 DC Race Roller can be tuned using different composite materials in key parts throughout the vehicle. The kit included the parts the race team prefers: Stiffezel front suspension arms, soft mud guards, Stiffezel waterfall and standard rear suspension arms.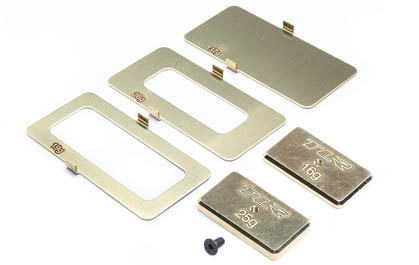 Ballast Tuning Options
Optional brass ballast weighs can be mounted under the servo, under the battery, and under the laydown transmission idler. This makes it easy to tune the static weight and weight bias for changing track conditions. When running a higher static weight, the chassis will become more neutral and easier to drive on ultra-high-grip surfaces.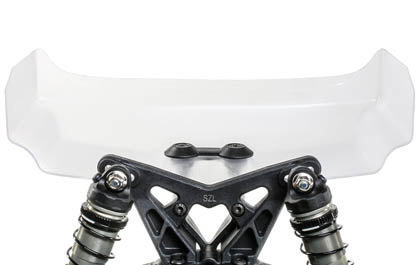 TLR 6.5" Rear Wing
Pulled from ultra-durable 1.2mm polycarbonate, the TLR 6.5" rear wing isn't new for the 5.0. Instead, this wing has proven itself as the longest lasting and most stable rear wing available for 1/10 2wd buggies over the past few years - and it comes in your kit.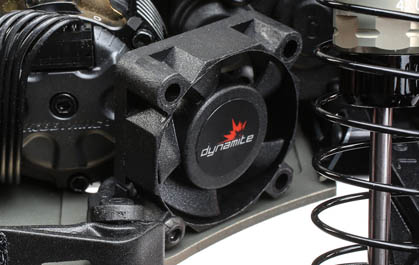 Built-In Motor Fan Mount
The prevalence of spec racing has led to the need for many racers to run motor fans to keep temperatures lower. Rather than an aluminum mount, or double-sided tape, the 22 5.0 DC Race Roller includes a molded fan mount secured to the mud guard for easy and dependable fan mounting.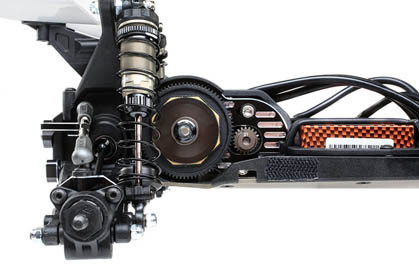 Laydown Configuration
The laydown 3-gear transmission moves the motor forward by 20mm+ to a more centralized location. The benefit is a chassis that drives much flatter and carries more corner speed.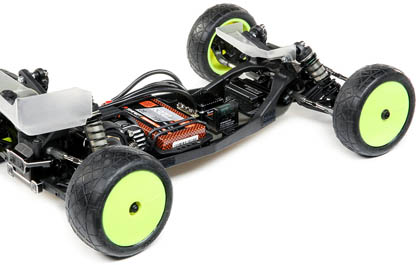 All Metric Hardware
Using all metric hardware make it easy to find replacement screws, nuts and washers, and helps to limit the number to tools required in the toolbox.