Product Details
The Enduro24... A blast to drive!
Key Features
Polycarbonate Trailrunner Body - Single Piece
2.4GHz 2-Channel Radio
Receiver and ESC 2-in-1 Combo
RTR - Just Charge and Go!
In The Box
(1) Enduro24 Crawler RTR Trailrunner Trail Truck
(1) Manual
Needed to Complete
Battery
Charger
AA Batteries (4)
Features
Single-piece polycarbonate Trailrunner body.
2.4GHz 2-channel radio
2-in-1 receiver and ESC combo
Single-cell LiPo battery included
Charger included
7mm wheel hexes
Vertical metal chassis rails
Soft compound rubber tires
Soft, coil-over shock absorbers
Telescoping center driveshafts
Adjustable body posts
Steel pivot balls
Overview
The Enduro24... A blast to drive! Whether it's outside on the trail or in the comfort of your own living room, there's no doubt this little rig will overcome the challenge. This small scale, 4-wheel drive crawler comes equipped with many features found on larger size rigs. Full-time 4-wheel-drive transmission with divorced transfer case, metal vertical chassis rails, and 4-link suspension ensure climbing over obstacles will be a breeze. Providing power and control is a 2-in-1 receiver/ESC, 2-channel radio, powerful servo, and single-cell LiPo. You get all this and more packed into a convenient package.
Don't let the small size and low speed deceive you---the Enduro24 Trail Truck with Trailrunner body can provide hours of challenging driving and scale fun! No matter what your skill level, there's plenty of fun for everyone.
Just install the batteries, charge, and go! Right out of the box, the Enduro24 RTR is ready for adventure... Are you?
Video Overview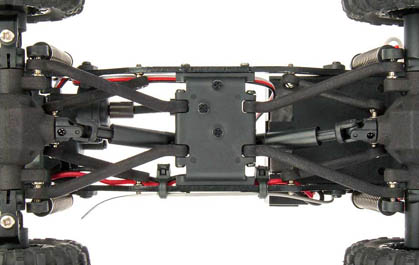 4-Link Front and Rear Suspension
Front and rear injection-molded 4-link suspension allows for smooth articulation to crawl over rough terrain.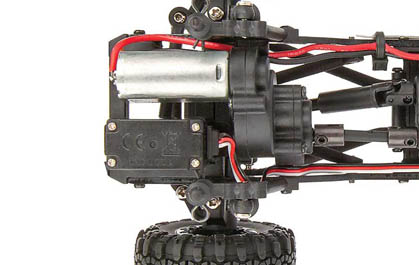 Chassis-mounted Servo (CMS)
The chassis-mounted servo provides maximum steering while maintaining scale looks.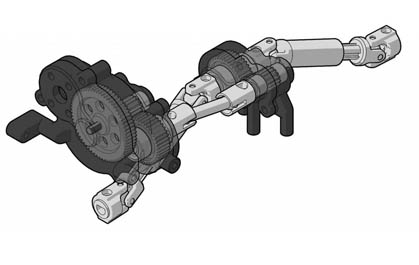 Forward-mounted Motor and Divorced Transfer Case
The forward-mounted motor puts the heaviest part of the rig over the front tires. This forward-bias weight keeps the front tires on the ground and provides better front grip during ascents. The divorced transfer case provides a lower center of gravity in a compact space. Not only does this combination perform well, it also adds scale realism, allowing for plenty of room should you want to add a custom body or interior.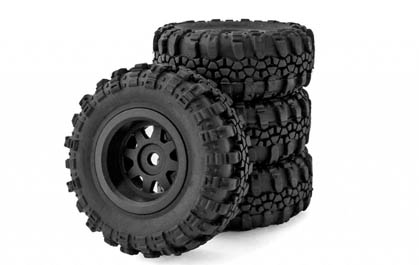 Wheels and Tires
Crawl, grip and climb over obstacles with black, injection-molded single-piece rims wrapped in soft compound rubber tires.