Key Features
Apex2 with licensed Hoonitruck body
Reedy brushed speed control and 3-pole brushed motor
Steel dog bones and drive axles
Full metal ball bearings
Adjustable shock mounting locations
In The Box
(1) Apex2 Hoonitruck RTR with Transmitter
(1) Product Instruction Manual
Needed to Complete
(1) 2S 7.4V "Shorty" LiPo Battery with T-Plug
(1) LiPo Battery Charger
(4) AA Batteries for Transmitter
Introduction
Team Associated is excited to partner with Hoonigan® to bring you their world-famous Hoonitruck in radio control form. Built on an all new Apex2 chassis, the Team Associated Hoonigan® Hoonitruck is a tire-slaying beast! The Apex2 chassis has been updated from Associated's previous version with the latest features in on road racing. A front and rear independent suspension with threaded oil-filled shocks and active rear toe give the Apex2 the ultimate in handling on uneven tarmac. This makes it a perfect platform for the Hoonitruck and tire-shredding action!
Features
Apex2 with licensed Hoonitruck body
Injection molded brake calipers and rotors
2.4GHz 2-channel radio system
Reedy brushed speed control and 3-pole brushed motor
Water-resistant, enclosed receiver box
Steel dog bones and drive axles
Sealed front and rear gear differentials
Adjustable hook and loop battery straps
Full metal ball bearings
Aluminum motor plate
Adjustable shock mounting locations
Bleeder screws included on shock caps
Bolt-on steering plates
Molded one-piece tie rods and steering links
Adjustable body post height locations
Steel 25T servo horn
G10 shock towers and G10 main chassis
"Shorty" battery box
POM-filled injection molded pivot balls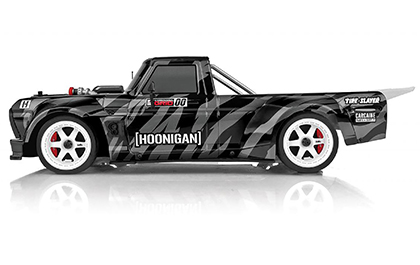 Licensed Hoonitruck Body
Licensed Hoonitruck Body with accurate scale details!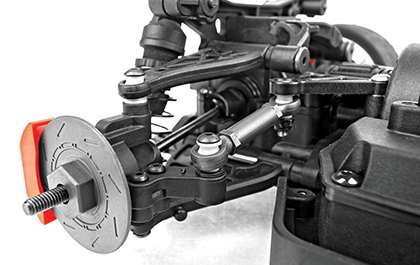 Active Rear Suspension
Active rear suspension allows the amount of toe change to be adjusted through the suspension cycle, increasing or decreasing rear grip.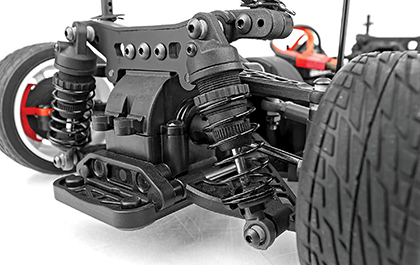 Threaded Oil-Filled Shocks
Threaded oil-filled shocks smooth out the bumps when ripping down the tarmac and shredding tires.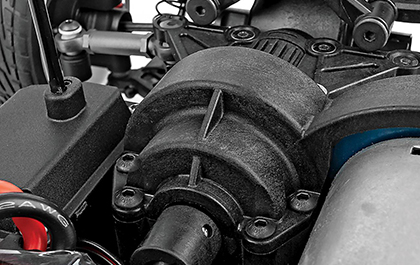 Sealed Center Driveline
A sealed center driveline keeps dirt and debris out - along wih bits of rubber - for smooth and reliable power delivery.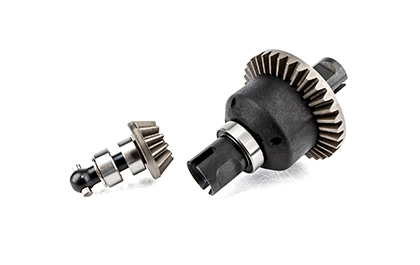 Metal Gears
The Apex2 chassis is equipped with metal ring and pinion gears for long-lastic durability that can handle tire-slaying burn-outs.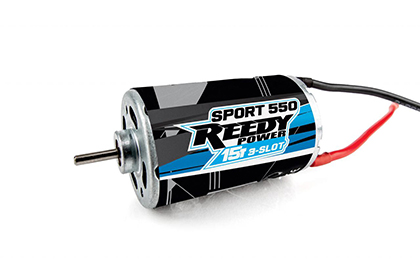 Powerful Reedy Motor
Reedy Sport 550 15-turn 3-slot brushed motor for powerful sport performance.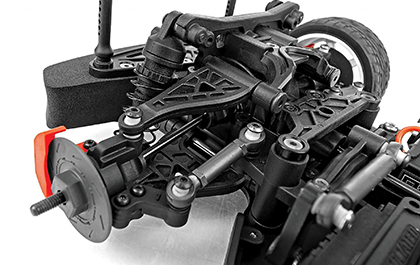 Independent Suspension
For better handling, A-arm front and rear independent suspension keeps the Hoonitruck under control during the wildest of driving conditions.
Programmable Reedy ESC
Reedy SC500X programmable brushed ESC is included (program card sold seperately).
Due to ongoing R&D, photos may not match final kit. Ford Motor Company Trademarks and Trade Dress used under license to Associated Electrics Inc. HOONIGAN Trademarks and Trade Dress used under license to Associated Electrics, Inc.